Welcome to the web site of The Singers, a chamber choir based in Newcastle upon Tyne. We hope you enjoy your visit and we look forward to welcoming you to one of our concerts - or even as a Singer - in the near future.

---
2019 Season
The Singers at Home - 11 May 2019

Our next concert will be our annual 'The Singers at Home' concert which will be in our rehearsal base in St Mary Magdalene in Longbenton. It's very near Longbenton metro station and there is lots of easy parking nearby. The informal concert will start at 1 pm and will last about 45 minutes. It will be followed by afternoon tea and cakes. Please come along and hear us sing in our rehearsal venue.
St Giles Cathedral, Edinburgh - 14 July 2019

We're heading up to Edinburgh to sing in the iconic St Giles in the Royal Mile. We'll be contributing the choral music for the two Sunday morning services on 14 July standing in for The St Giles Singers who will be on tour in Guernsey and Normandy. This is the third time we've done 'holiday cover' in St Giles and it has always been a special experience. We'll be staying on to sing a 'St Giles at 6 concert' - more details later.

The services will be at 10 am and 11.30 am and the evening concert (about 45 minutes or so) will be a 6 pm. We'll be having what will, in effect, be an open rehearsal in the afternoon. Come in and say hello.
Coventry - 19 and 20 October 2019

We're all looking forward to our first visit to Coventry. We'll be presenting a concert in Holy Trinity Church a lovely, spacious church near the cathedral, to help raise funds to restore the organ. The concert will be at 4 pm on Saturday 19 October and will last about an hour. Holy Trinity church is a medieval church which survived the 1940 blitz. We'll move across the road to the cathedral. Coventry Cathedral is regarded by many as one of the finest and most iconic twentieth century buildings in England. It was consecrated in 1962 and I remember as a boy listening to the first performance of Benjamin Britten's War Requiem from Coventry Cathedral on an old valve radio.
We'll be singing the services in Coventry Cathedral on 20 October 10.30 am and 4.30 pm.
Christmas 2019
Our Christmas with The Singers concert is scheduled for 7 pm Saturday 14 December 2019 in St George's, Jesmond here in Newcastle and we hope to be singing for Epiphany in Durham Cathedral on Monday 6 January 2020.

---
Recent past events - Christmas 2018 and Epiphany 2019

We are now enjoying a break in our activities after a very busy Christmas season. Our Christmas with The Singers in St George's Church, Jesmond, here in Newcastle upon Tyne, was a great success. We performed the premiere of Edmund Hunt's Vita Hominum, the culmination of a year's collaboration. This went very well indeed. An innovation this year was to start the concert at the back of the nave singing Bach's harmonisation of O Little One Sweet in candlelight and then processing up the nave led by James Clark playing a beautiful Gaelic melody on the Northumbrian pipes. Very atmospheric! It was a super program, with mulled wine and mince pies served by The Friends of St George's at the interval. A blast of grim weather just before the concert and a railway strike prevented some from being able to travel, but did not spoil the warm atmosphere or the sense of anticipation of Christmas. The concert was expertly recorded by BBC Radio 3 by engineer Sharon Hughes and producer Barnaby Gordon.
After Christmas we were off to Durham Cathedral where we sang all the services for the Epiphany weekend. With a Friday evening and Saturday morning rehearsal in Newcastle and rehearsals in Durham before the services plus a nave performance of Edmund's Vita Hominum it was pretty much a non stop weekend. This really helps us appreciate how hard cathedral choirs work and how much music they get through! Both our evensongs were unaccompanied - challenging for the choir but a wonderful experience with the right music. Our other services (Matins and Eucharist) were beautifully accompanied by Francesca Massey.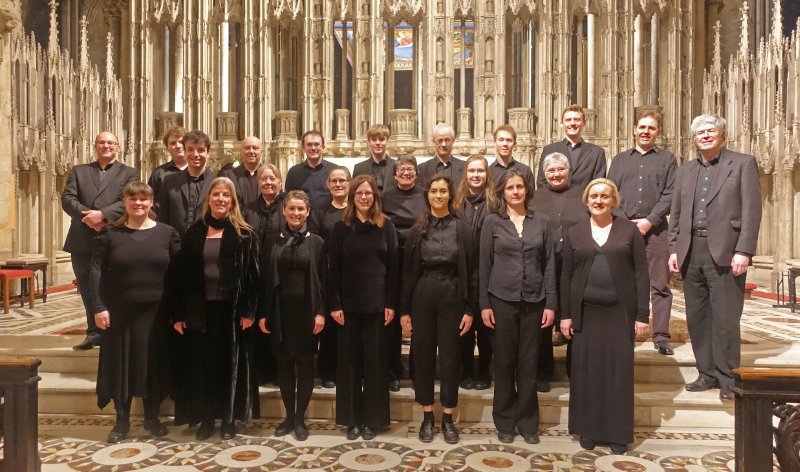 At lunchtime we gave a special performance of Edmund's Vita Hominum in Durham Cathedral. This started at the back of the nave, with us singing as we processed up all three aisles to the front of the nave where the main part of the piece was performed. Towards the end of the performance we processed out down the nave and into the Galilee Chapel where we gathered round the tomb of Bede to finished the piece. It sounded great - a wonderful adventure in sound and a fantastic experience for us all.
---
THE SINGERS ON BBC RADIO 3
A feature about our year long collaboration with composer Edmund Hunt will be broadcast on BBC Radio 3 on Tuesday 8 January about 9.15 pm after the evening concert (a Proms concert by the Boston Symphony Orchestra).
The programme will include a recording of our premiere performance of Edmund's Vita Hominum made in St George's, Jesmond on 15 December. There will also be interviews with Edmund, Donald Halliday (conductor) as well as Christopher Hunwick and Gaby Wright who translated the words by Bede into English and who sing with The Singers.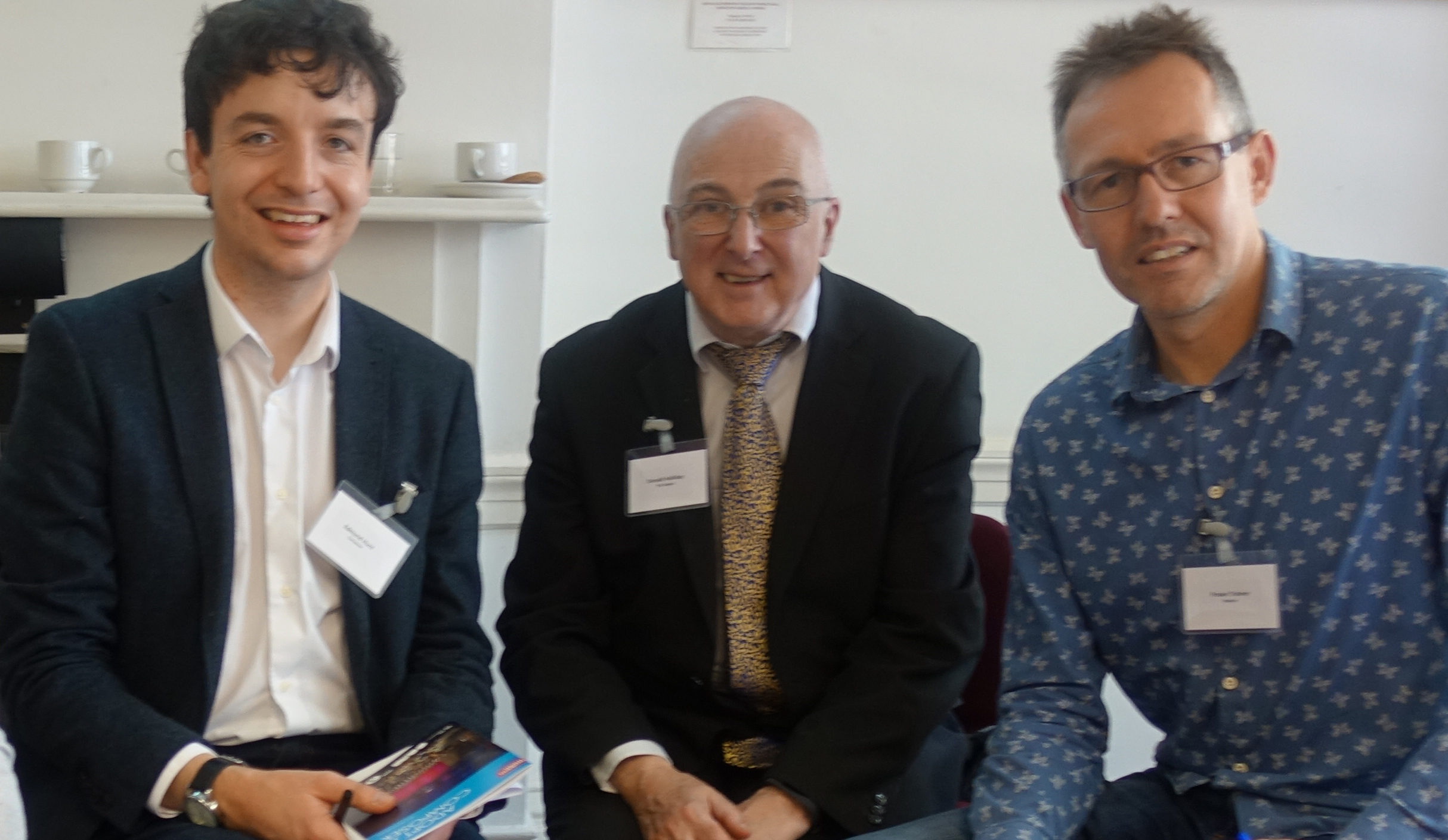 L to R: composer Edmund Hunt, conductor Donald Halliday and mentor Fraser Trainer

---
EPIPHANY IN DURHAM CATHEDRAL
Join us in Durham Cathedral over Epiphany weekend where we will be singing for all the services as well as giving a special luch-time performance of Edmund Hunt's Vita Hominum.
Our music list is:
Durham Cathedral, 5 and 6 January 2019

Saturday Evensong – 5:15 pm
Responses: William Smith
Psalm 97 (Stainer)
Magnificat: Fauxbourdons, William Byrd
Nunc Dimittis: Fauxbourdons, William Byrd
Anthem: Lux Aurumque, Eric Whitacre

Sunday, Matins, 10 am
Responses: William Smith
Psalm 132 (Maunder, Massey)
Te Deum – Stanford in B flat
Benedictus - Stanford in B flat
Anthem: Star in the South, arr. Malcolm Sargent (1895 – 1967)
Hymns: 52, 48

Holy Communion 11:15 am
Nicene Creed - Merbecke
Darke in E (Collegium Regale)
Anthem: Lo Star led Chiefs, William Crotch

Sunday at 1.30 pm in the nave
VITA HOMINUM
Sung in Latin, Words by Bede (672/3 – 26 May 735)
Music by Edmund Hunt
English translations by Christopher Hunwick and Gabriele Wright
Soloists: Lindsey Nicholls (soprano) Martin Lay (tenor)
The performance will last about 20 minutes

Sunday Evensong – 3:30 pm
Responses - William Smith
Psalm 98 (Randall), 100 (Day)
Magnificat: Primi toni, Tomás Luis de Victoria
Nunc Dimittis: Gustav Holst
Anthem: Omnes de Saba, Jacob Handl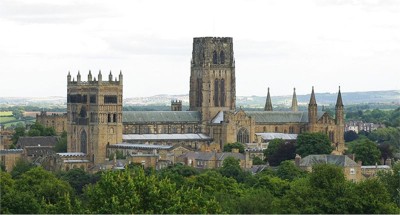 ---
Christmas with The Singers 2018
Tickets are now on sale for our Christmas with The Singers Concert on 15 December 2018. This year's concert is being recorded by BBC 3 and extracts will be broadcast in January 2019. Tickets are £12 each, but there is a special early purchase price of £10.

A feat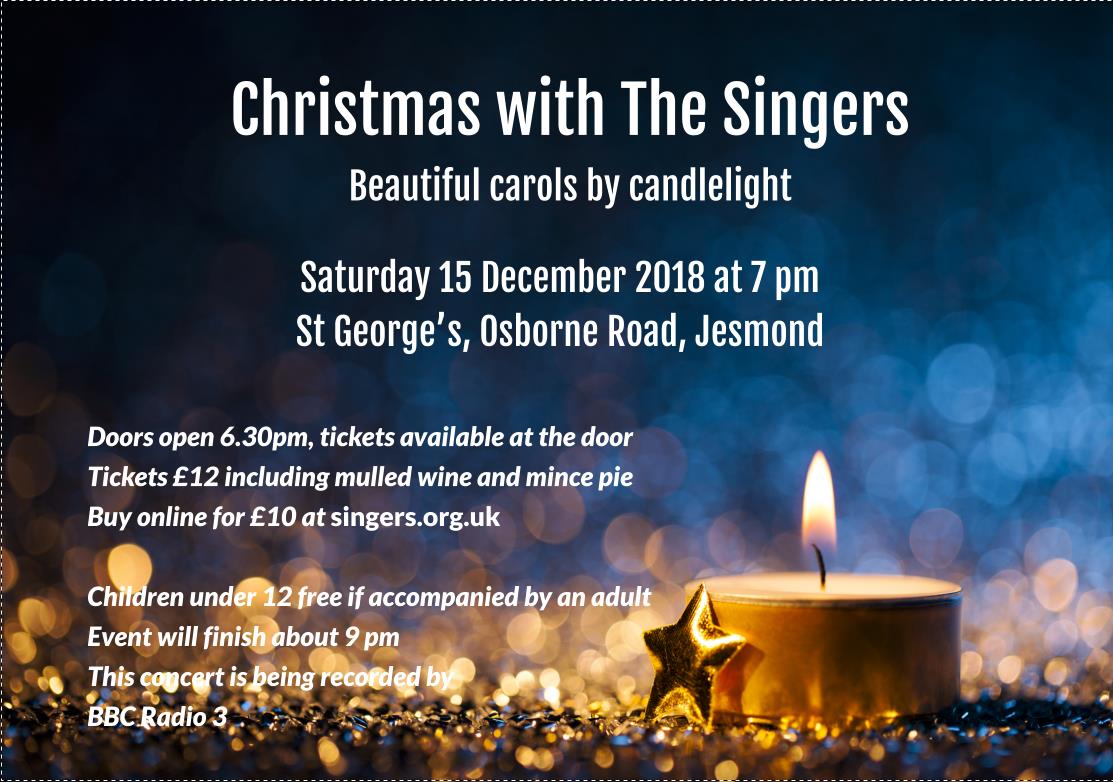 ---
We have a new photgraph

We have a new photograph which shows us sitting outside All Saints Church in Rothbury on Saturday 20 October after giving a concert in the church

---
Singer vacancies

We currently are looking for additional singers. We have the following vacancies.
Sopranos - 2 singers
Altos - 1 singer
Tenors - 1 singer
Basses - 1 singer
If you would like to explore joining this choir with its high musicality, distinctive sound and amazing repertoire please contact the conductor.
The Singers is one of the best choirs in the North of England.
We rehearse once a month, usually the third Friday evening of each month and the following Saturday morning.
There is no subscription and music is supplied free (but must, of course, be returned).
Sometimes, accommodation can be provided free for singers from outwith the area. Singers cover their own travelling costs.
---
PAST EVENTS

---
Coffee Concert in All Saints, Rothbury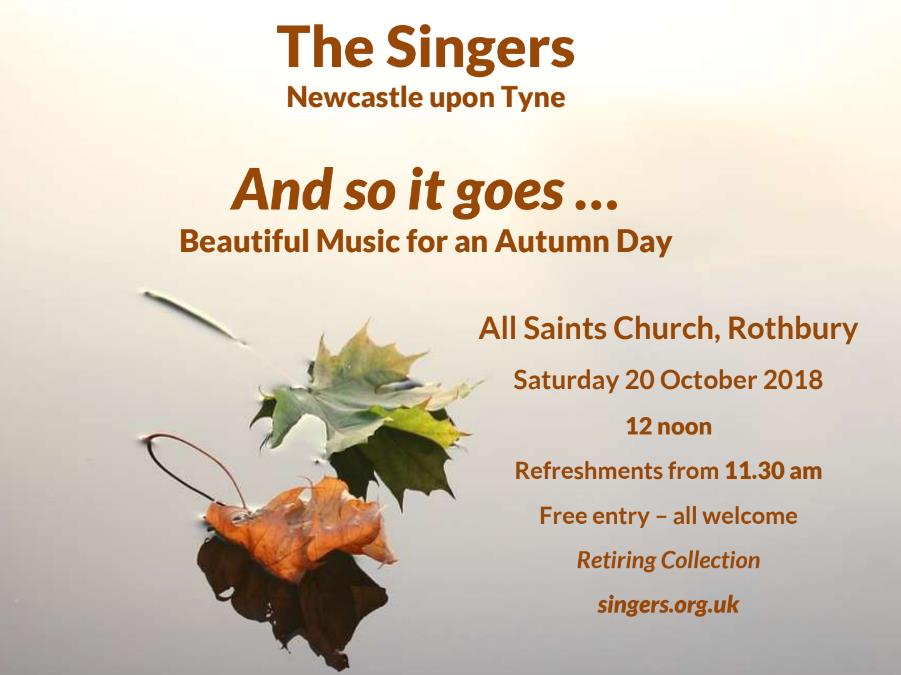 ---
2018 Annual Concert in St Mary Magdalene
We gave our annual Afternoon Tea Concert in St Mary Magdalene, Longbenton on Saturday 12 May 2018. We always enjoy this concert. It's good to contribute something musical to the church in which we rehearse, and great to meet friends and the local community informally.
The weather was beautiful and the church was full. We sang a varied programme of pieces from our repertoire. Five of the pieces we sang were being sung by us for the first time and included works by Kim André Arnesen and Heinrich von Herzogenberg. You may not know the names - but the music is fantastic. We also included a sneak preview of part of the new work being written for us by our adopted composer Edmund Hunt - a stand alone section of the more extended work we will be premiering in December. Edmund was there to introduce his piece and both he and the music were warmly received.
We also had some community singing following last year's innovation, and, again, the result was amazing.

As always there were scrumptious cakes, tea and coffee provided by the congregation! Many thanks to Pat, the vicar, and all the volunteers who made the afternoon such a success.

---
April rehearsal weekend with our adopted composer


We had a great couple of rehearsals in our April weekend. The beautiful sunshine and warmth was a very welcome break in the long spell of cold weather we've been having. As part of our Adopt a Composer project* our 'adopted composer' Edmund Hunt was with us and brought another movement of his new work for us to start work on.

This is turning out to be a very enjoyable and rewarding partnership. Edmund is completely dedicated to the project and is writing music of high quality and interest. This is being reciprocated by massive enthusiasm and commitment from The Singers. We'll have more news for everyone in due course, and we're on schedule for a premiere in Newcastle in December with the new work scheduled for broadcast on BBC Radio Three in January 2019.

Here's a photo of Edmund enjoying the weekend.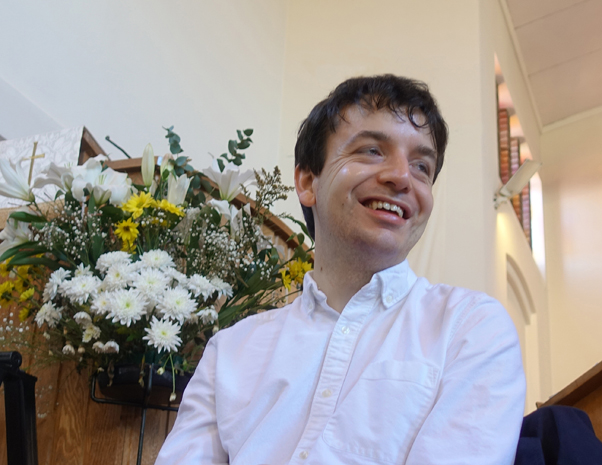 Edmund Hunt
Of course, no matter how hard we're rehearsing there's always time for some coffee and cake!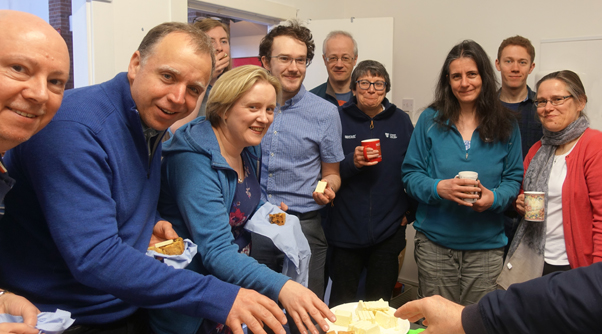 Coffee break on Saturday morning
As well as working on Edmund's music we looked at some pieces by the 18th century Austrian composer Heinrich von Herzogenberg and the contemporary Norwegian composer Kim André Arnesen. We'll be including some of this in our May 'at home' concert in St Mary Magdalene at 2 pm.

* Adopt a Composer is run by Making Music in partnership with Sound and Music, in association with BBC Radio 3, and funded by PRS Foundation and the Philip and Dorothy Green Music Trust.
---
Wedding at Brinkburn Priory
We were delighted to be asked to sing at Eve and Ed's wedding in Brinkburn Priory in March. It turned out to be a very beautiful day in all respects. The sun shone and the setting was stunning. Eve and Ed both looked radiant.
We sang music by Batten, Tallis, Bach, Durufle and Whitacre as well as songs by Robert Burns and Billy Joel. Many thanks to Marc Bryant who played the organ. Here's a photo we took outside the Priory.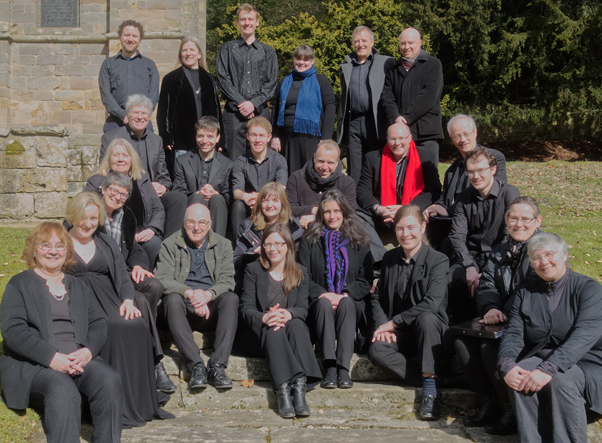 ---
Epiphany at Durham Cathedral - 2018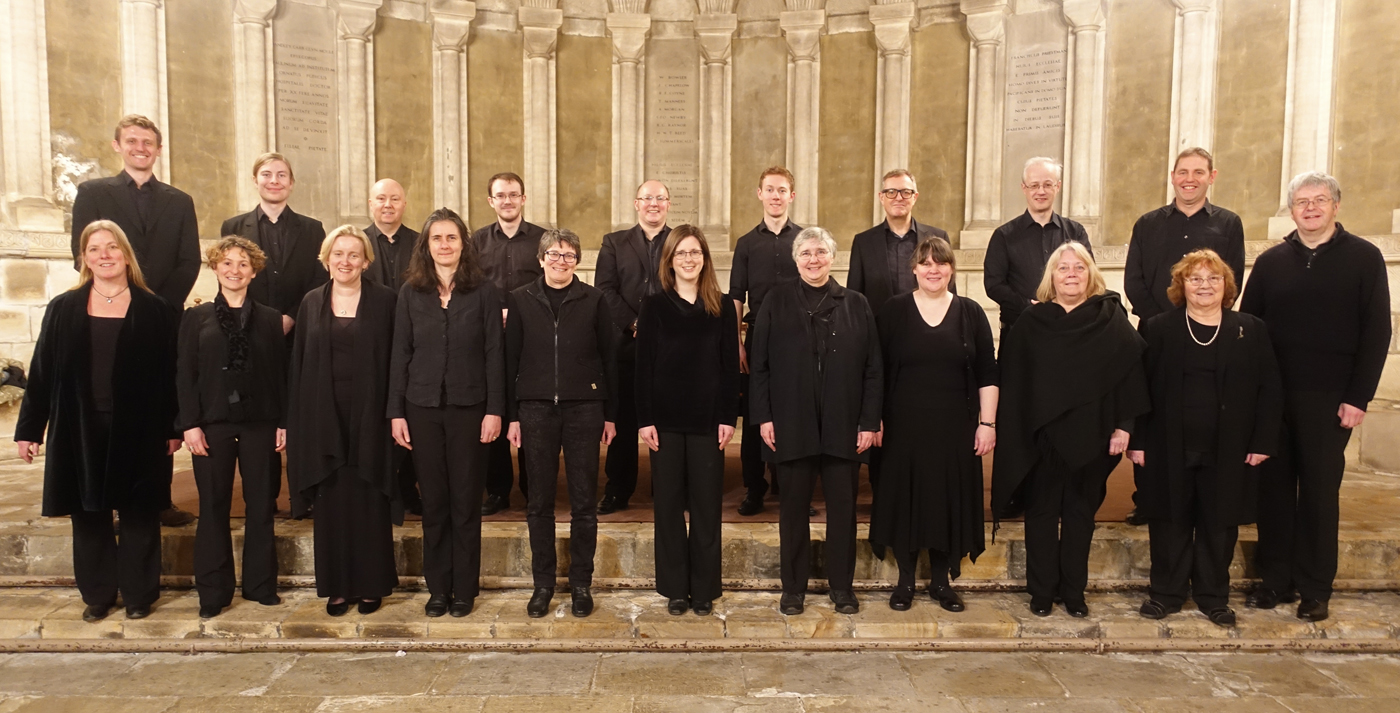 The Singers sang for the service for the Epiphany at Durham Cathedral on 6 January 2018. We have sung this service for the last 21 years now! We were joined by Kris Thomsett who played the organ beautifully throughout. We sang Darke's Communion Service (Collegium Regale) and Poulenc's Videntes Stellam.
---
Christmas with The Singers - 2017

The Singers presented a very successful Christmas Concert in St George's Church, Jesmond on Saturday 16 December 2017. We were joined by Oscar and Edgar Ho (classical guitar and piano respectively) from Morpeth and by our adopted composer, Edmund Hunt. We sang a short piece by Edmund and he accompanied us on the Northumbiran Pipes.

We are grateful to The Friends of St George's who organised the mulled wine and mince pies at the interval.

---
We've adopted a composer!
We're absolutely thrilled to announce that we have been selected for the 2017/2018 Adopt a Composer scheme run by Making Music.
This enables a pairing between The Singers and Edmund Hunt, a young and up and coming composer, for a year to produce a new work which will be premiered on BBC Radio 3.

Edmund has musical connections with Newcastle. He did his MMus at Newcastle University and has just completed his PhD at the Birmingham Conservatoire. His composition 'Argatnél' was performed recently by the London Philharmonic Orchestra in the Queen Elizabeth Hall, London, and was reviewed in the Telegraph as 'the most delicately beautiful piece of the evening'.

Our mentor for the project will be Frazer Trainer, a composer who teaches at the Guildhall School of Music and Drama.

Adopt a Composer is run by Making Music in partnership with Sound and Music, in association with Radio 3, and funded by the PRS foundation and the Philip and Dorothy Green Music Trust.
We're really looking forward to working with Edmund and Fraser.

The photograph shows (left to right) Edmund Hunt, Donald Halliday (our conductor), and Fraser Trainer at the Announcement Ceremony in London.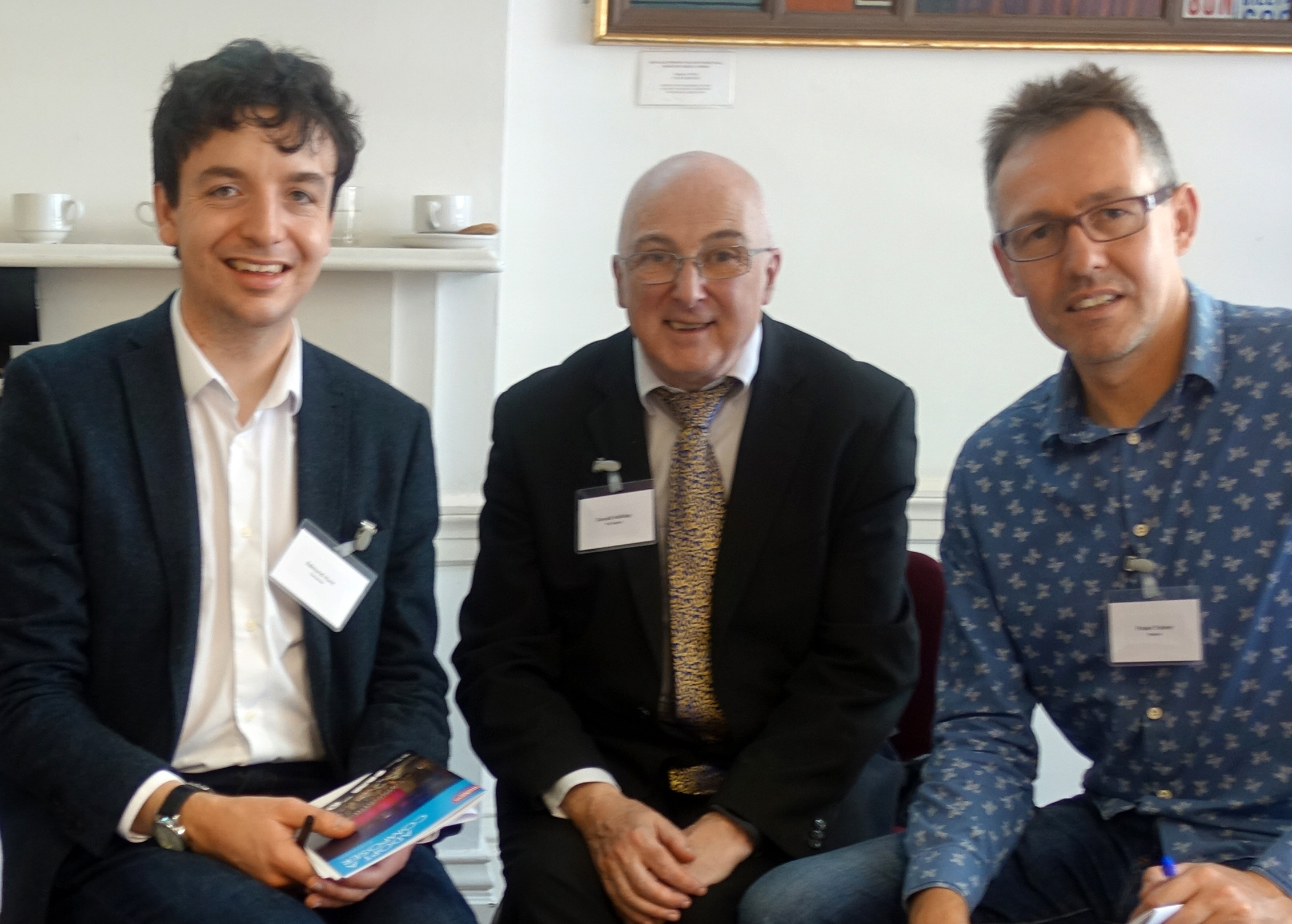 ---
Fantastic review for our Blackburn Cathedral concert
We are most grateful to John Bertalot for his great review of our concert in Blackburn Cathedral 22 July 2017. This was published in Music and More.
---
The Singers were Astounding



The Singers, from Newcastle upon Tyne, gave a fabulous concert in our Cathedral in July - we were all blown away by their impeccable unanimity, exquisite tone, blend, balance, sheer professionalism and whole-hearted dedication to the demanding music they sang.

Their conductor, Donald Halliday, is a distinguished Scottish musician who knows how to create musical magic. They recently sang in St Giles Cathedral, Edinburgh, Durham Cathedral, Southwark Cathedral, and made a return visit to Cologne Cathedral! They rehearse once a month in Newcastle - 2 hours on a Friday evening and 3 hours on a Saturday morning. They are very special.

The Singers (who include two former Blackburn musicians) were introduced by Samuel Hudson and then they sang a most demanding programme - a feature of which was being able to sing in many vocal parts with mellifluous tone clusters, very high notes for the sopranos (who all 'came in' absolutely together with apparent ease) - singing forte and also being able to sing so quietly that the very air of our cathedral was blest. It was a privilege to be there that evening.

They also sang two choral services for us the next day - our congregations were similarly blown away by their amazing singing.

Please put us on your touring list, blessed Singers, with Cologne Cathedral!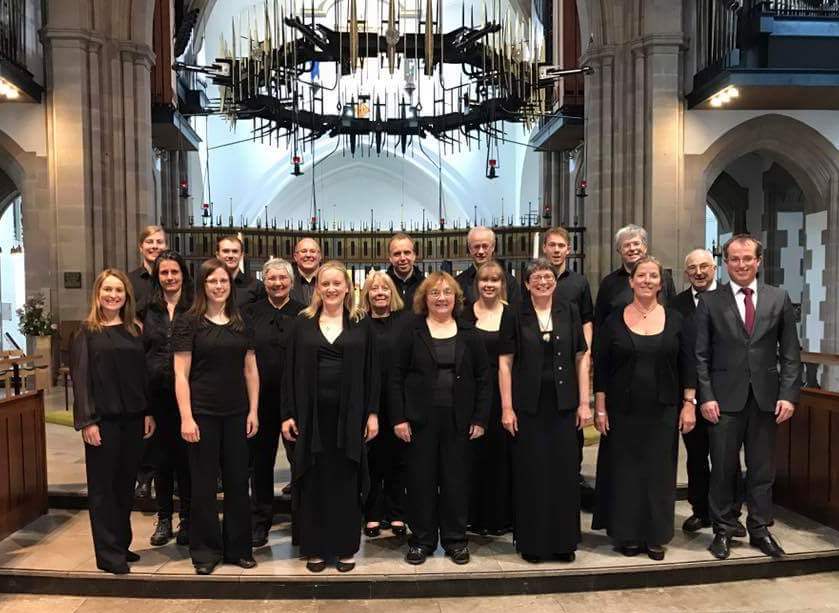 ---
The music we sang was:

Music for a Summer Evening
O sing joyfully - Adrian Batten
Non moriar sed vivam - Martin Luther
Richte mich, Gott - Mendelssohn
Ave Verum Corpus - Peter Philips
The Gallant Weaver - James MacMillan
My bonny lad (Northumbrian folksong)
Stars - Eriks Ešenvalds
Amazing Grace - arr. Eriks Ešenvalds
Kyrie and Gloria from Missa Rigensis (2003) - Ugis Praulinš
The Road Home - arr. Stephen Paulus

Sunday morning service
Organist: Shaun Turnbull
Mass setting: Gloria, Sanctus, Benedictus and Agnus Dei only from
Missa Rigensis (2003) - Ugis Praulinš (b. 17 June 1957)
Communion motets:
Ave verum corpus - Peter Philips (c.1560 – 1628)
Panis Angelicus - César Franck (1822 - 1890)
Psalm 86 from verse 11 (chant H. Smart)

Choral Evensong
Organist: Shaun Turnbull
Introit: Open Thy Gates - Julius Harrison (1885 - 1963)
Preces and Responses: Kenneth Leighton (1929 - 1988)
Psalm 67 (chant J. Goss)
Magnificat and Nunc Dimittis - Stanford in A
Anthem: Blessed be the God and Father - S S Wesley (1810 - 1876)

---
The Singers visit St Giles Cathedral in Edinburgh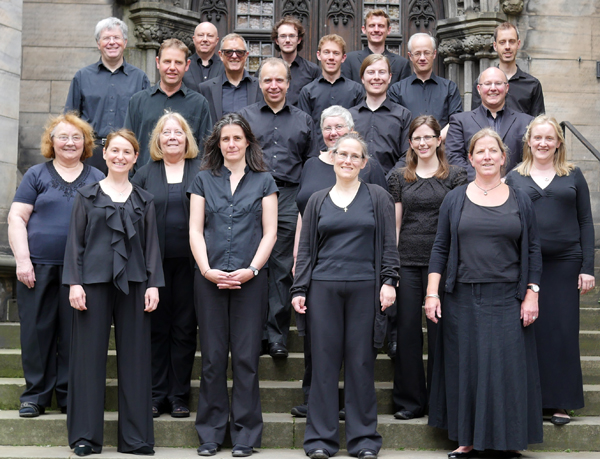 The Singers made a successful visit to St Giles Cathedral in Edinburgh to sing the morning services while the resident choir, The St Giles Singers, were on tour in the USA. The organist was Paul Stubbings, Director of Music at St Mary's Music School.

The music sung is available in the Service Booklets which can be downloaded using the following links:

10:00 Communion Service
11:30 Morning Service

---
Epiphany in Durham Cathedral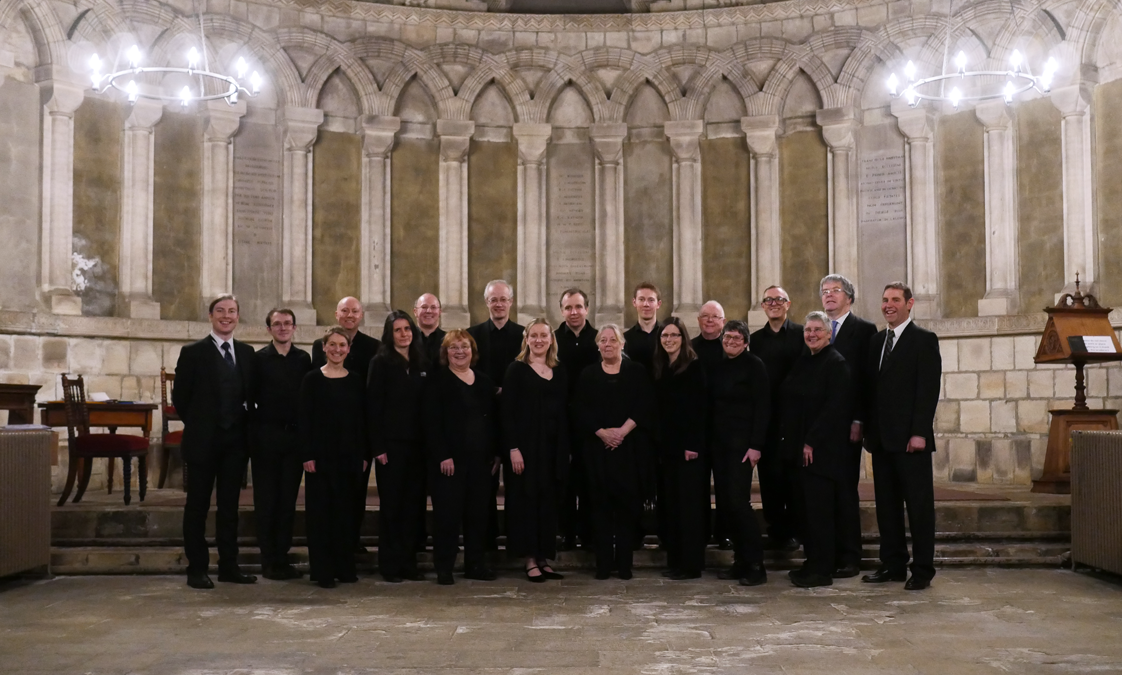 The Singers celebrated the end of the Christmas season by singing for the Annual Epiphany Service in Durham Cathedral, held on Friday 6 January 2017. This was a beautiful service which was warm and intimate despite the vast building that is Durham Cathedral. The service was very well attended and it was a real privilege to be able to play a part in it.
The music sung was:
Ugis Praulinš: Missa Rigensis - Gloria, Sanctus, Benedictus and Agnus Dei
Crotch Lo! Star led Chiefs
Organist: Kris Thomsett
Conductor: Donald Halliday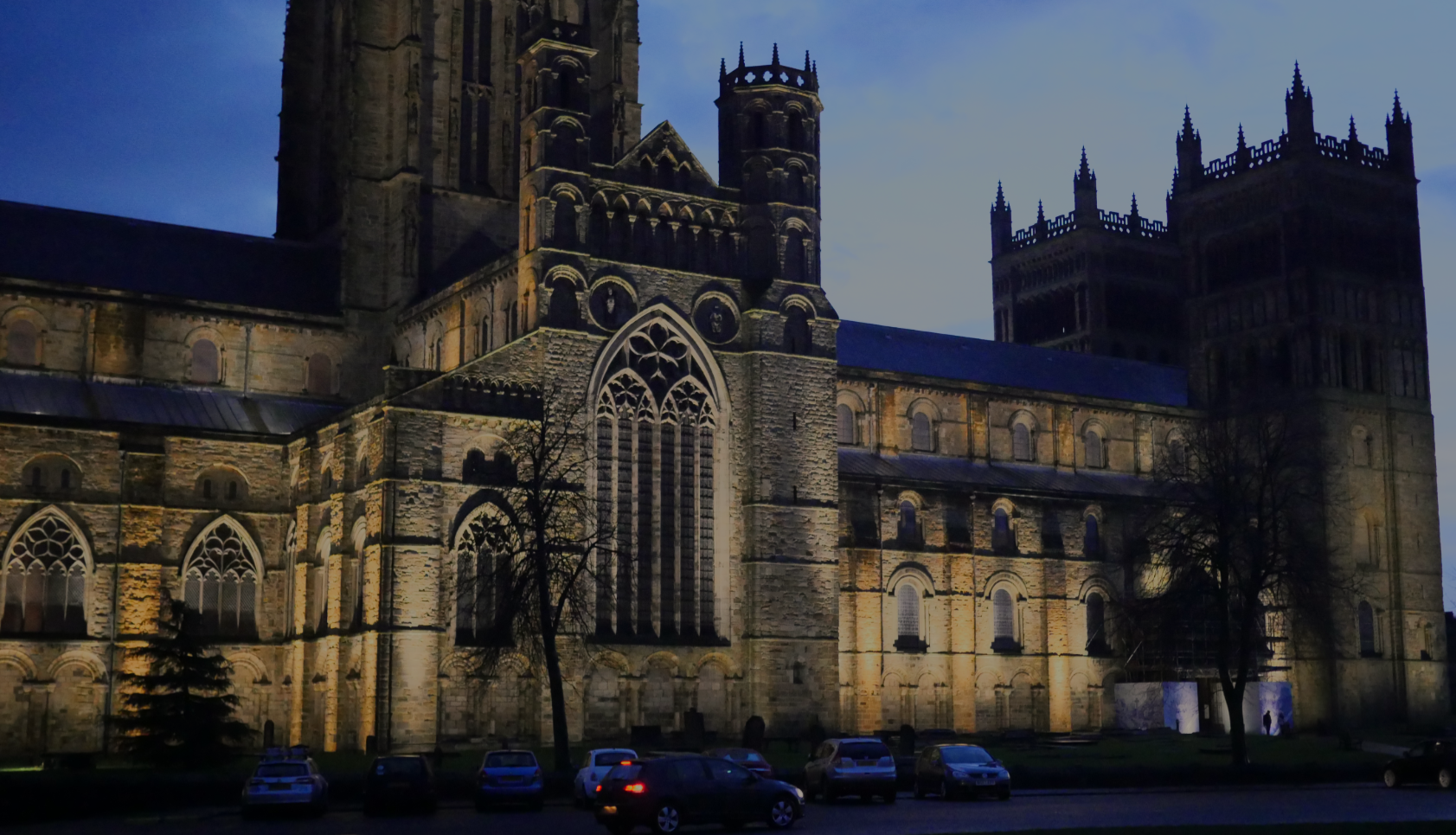 ---
The Singers launch their 2016 Christmas video
The Singers have launched their 2016 Christmas video - A Newcastle Christmas. We hope you enjoy our singing and the local scenes as Newcastle gears itself up for the Christmas season, and the choir prepares for its Christmas with The Singers concert in St George's Jesmond on Saturday 17 December. See the post below for more information. Enjoy!
---
Christmas with The Singers 2016



One of the highlights of our Christmas Season was Christmas with the Singers on 17 December 2016 at 7 pm in St George's in Jesmond. There were festive carols, guest instrumental soloists, a free prize draw and the mulled wine


---



The Singers visit Cologne



The Singers visited Cologne in Germany for the weekend of 9 and 10 April 2016. A highlight of the visit was singing Choral Vespers in Cologne Cathedral. The choir also progressed its project of singing in as many of Cologne's twelve Romanesque churches as it can - now up to seven!. This was the choir's third visit to Cologne.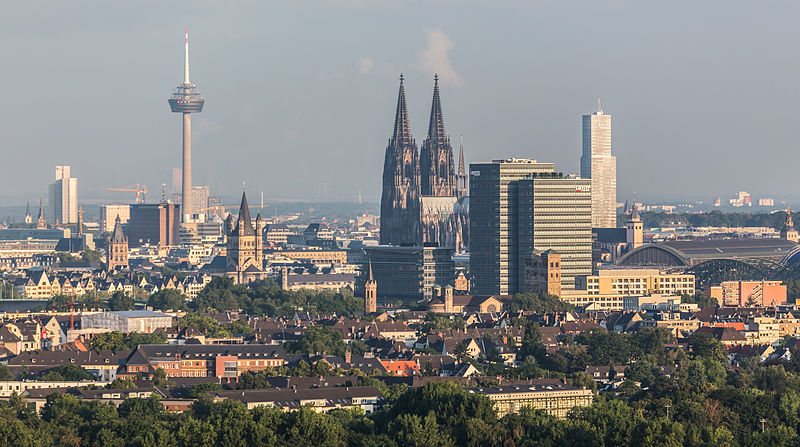 Photo: Eckhard Henkel /

Wikimedia Commons/

CC BY-SA 3.0 DE


---
The Singers at Liverpool Anglican Cathedral

The Singers visited Liverpool on Sunday 6 September 2015 to sing the services in the magnificent Anglican Cathedral there. The Singers were conducted by Donald Halliday and the organist was Nick Miller.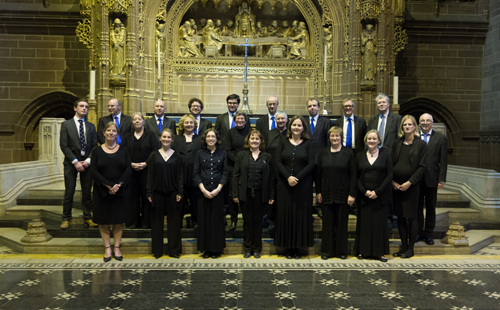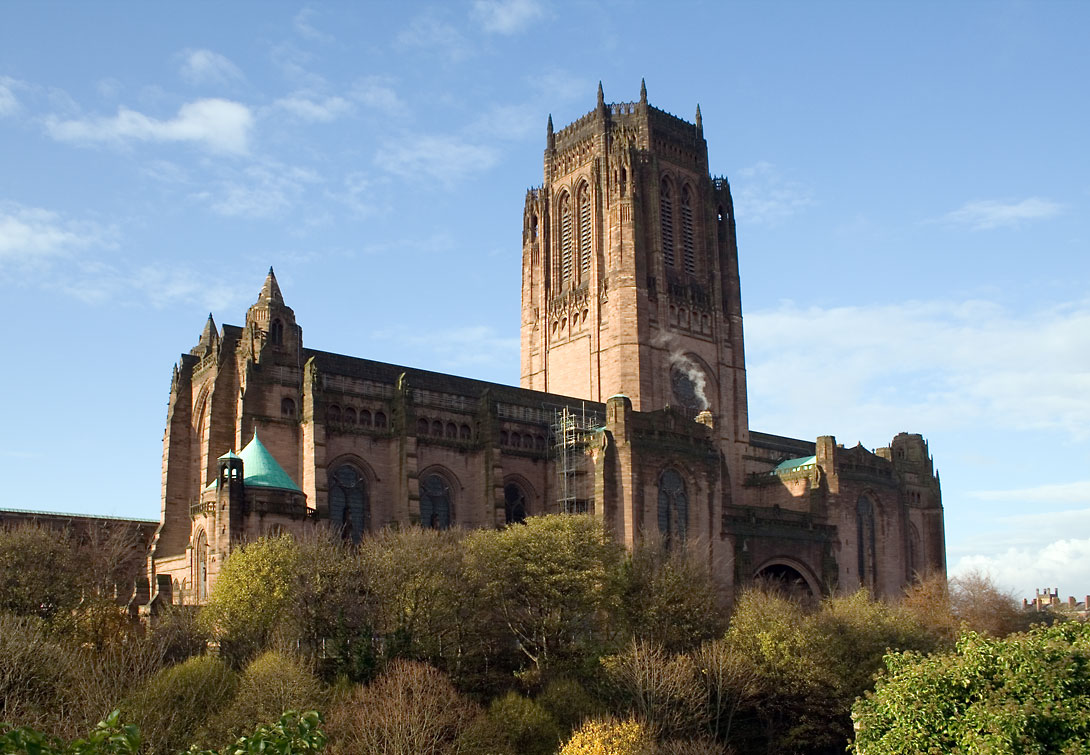 ---
The Singers at Southwark Cathedral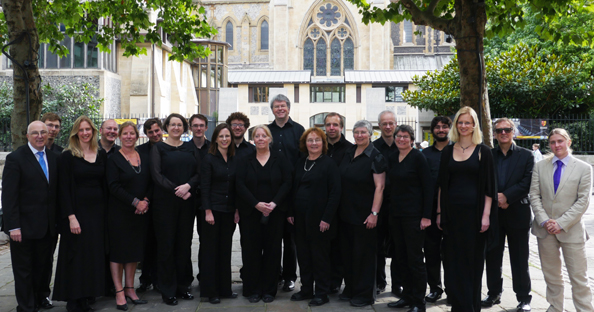 The Singers, under conductor Donald Halliday, finished their 2013/2014 season with a visit to London to sing the choral services in Southwark Cathedral over the 2014 August Bank Holiday weekend. Jemima Stephenson, joined the choir as organist for the weekend. Jemima is Assistant Director of Music and Sir George Thalben-Ball Memorial Organ Scholar at St Michael's Cornhill and a postgraduate student at the Royal Academy of Music.
The weekend was a great success both musically and socially. The choir has visited Southwark Cathedral several times in the past - but this was the choir's first visit since 2009.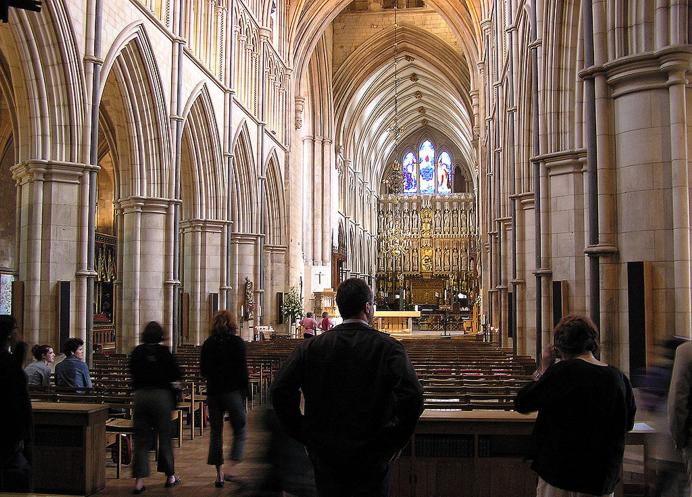 ---
The Singers at St Giles Cathedral, Edinburgh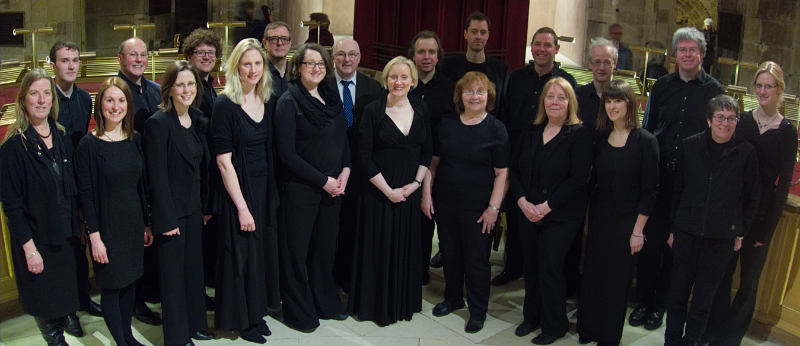 The Singers photographed after their concert in St Giles Cathedral, Edinburgh

The Singers gave a very successful concert in Edinburgh's historic St Giles Cathedral on Sunday 23 March 2014 at 6 pm. The concert was very well attended and the audience was most appreciative.

The themes of the programme included Lent as a journey of preparation, the Annunciation (25 March), and Sunset (the sun set halfway through the concert!). The programme is available
online
and can be viewed or downloaded as a pdf.

The programme explored recent choral music from Norway and the USA, and included standard choral favourites as well. James Tradgett, cello, joined the choir in a performance of
Ola Gjeilo's

Serenity

, and the cathedral's Director of Music, Michael Harris,
played the fine Rieger organ to accompany Wood's

View me Lord

and Mozart's

Laudate Dominum

sung by Lindsey Nicholls. Stephen Paulus's

The Road Home

was performed as a special tribute to the composer who suffered a stroke on 4 July 2013 and has been in a critical condition since*.

*UPDATE: Sadly, Stephen Paulus died on 19 October 2014.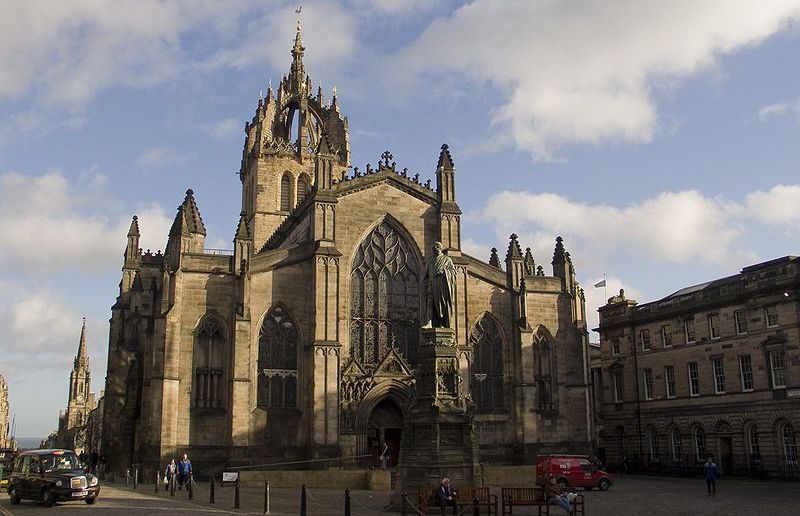 ---
Why not join us?
The Singers currently has vacancies for experienced singers. We recruit quite widely and it may be possible to provide lifts and/or accommodation if you live outside the North of England. Please contact the conductor if you are interested in joining the choir.
---
A photo of Donald Halliday rehearsing

Ola Gjeilo's Serenity with The Singers and Donald Robinson, cello, 21 December 2013

.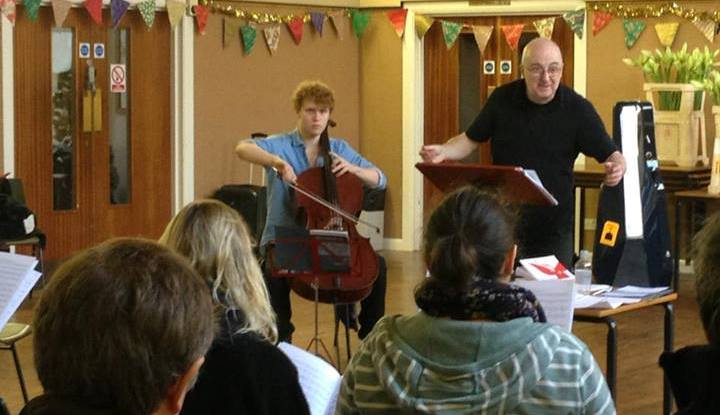 ---
Here is a video of us singing at a rehearsal the hymn By Cool Siloam's Shady Rill.